San Francisco's 49 Mile Scenic Drive: The Guidebook, by Joseph M. Lubow and Laurel Rosen. Seattle: Sasquatch Books, 2001.

At last, a guide to the Drive. The best tool for seeing all of San Francisco in a day is a gem called the 49 Mile Scenic Drive, which has been leading locals and tourists to the city's major sights, fascinating neighborhoods, and breathtaking vistas since 1938. San Francisco is an ideal destination, but navigating the city can be tricky. The 49 Mile Scenic Drive is a hidden key to San Francisco that hands travelers a ready-made way to organize a day, or several days. Like having a friendly, knowledgeable local in the passenger seat, this guidebook helps visitors follow those distinctive seagull signs and shares trivia, history, local stories, and lore along the way.

"A great tool for seeing all of San Francisco in a day, this guidebook focuses on the major sights of the city, its neighborhoods and beautiful vistas. Also included are trivia, history and local lore." --Chris Watson "Bookends"

49 miles of foggy bliss Perhaps you've seen the seagull-emblazoned signs, but you've never had time to figure out where they lead. A new guidebook, San Francisco's 49 Mile Scenic Drive, illuminates the mystery for both motorists and armchair travelers. The drive, designed by the Downtown Association to promote the city's beauty, was unveiled in 1938; the book traces its route from the Civic Center through Hayes Valley, up Nob Hill, past Aquatic Park to the Chain of Lakes Drive and Cesar Chavez Street, pointing out landmarks and a little history. Sasquatch Books, Seattle, 2001; $15.95; (800) 775-0817 or www.sasquatchbooks.com – C.S.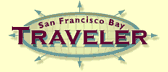 Those little sea gull signs all over San Francisco do have a purpose. They guide you along a 49-mile scenic drive, but the honking cars will never allow you to just stumble along searching for the next sea gull marker. So grab this new guidebook: "San Francisco's 49 Mile Scenic Drive," by Joseph M. Lubow and Laurel Rosen (Sasquatch Books, $15.95). You could follow the whole tour starting at City Hall, counting gulls. Better yet, hand this book to your summer house guests and send them off to find their own gulls. --Anne Chalfant